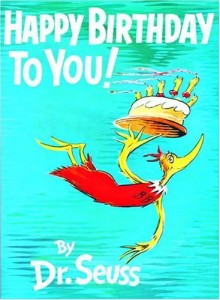 Happy birthday to Theodor Seuss Geisel, who brought us 44 imaginative and inspirational children's stories in his 87 years.
Some were written as Theo LeSieg, but of course the best-loved ones were penned under the name of Dr. Seuss.
Needless to say, thinking about his rhymes brings fond memories of childhood.
But many of them were valuable to adults as well.
For example, Barry brought my attention to this quote, appropriately from Seuss's Happy Birthday to You! book, which reminds us all to embrace our uniqueness:
"Today you are true! That is truer than true! There is no one alive who is you-er than you!"
And what about the graduation classic, Oh, The Places You'll Go!…
It's filled with such thought-provoking, inspirational and motivational ditties as these:
"You have brains in your head. You have feet in your shoes.
You can steer yourself any direction you choose."
And even better…
"You'll be on your way up! You'll be seeing great sights!
You'll join the high fliers who soar to high heights.

You won't lag behind, because you'll have the speed.
You'll pass the whole gang and you'll soon take the lead.
Wherever you fly, you'll be best of the best.
Wherever you go, you will top all the rest."
But lest you think life is all about positive occurrences, all the time:
"On and on you will hike, And I know you'll hike far,
and face up to your problems, whatever they are."
Then of course, this is my favorite (and, keep in mind, any experience can be considered a success with a shift in perspective and embracing of the lesson learned):
"And will you succeed? Yes! You will, indeed!
(98 and 3/4 percent guaranteed)."
Thank you, Dr. Seuss, and happy birthday, wherever you are.
Keep Unwrapping the Mysteries of Life!