Yesterday I was from Toronto, Canada… today I'm from Southern Oregon. 3,000 miles and 3 time zones away.
Not to mention a different country.
How does that work?
Well, it was only a matter of time. My life has been changing, and moving forward. My values, my goals, my mission in life has been moving in one direction, while my husband Wil's has been moving the other way.
It's like we spent years walking along a path together until we finally reached a fork in the road, and I knew that I was meant to take one route while he took the other.
I believe that taking the right path for each of us is going to make us stronger, better people in the long run, and that we'll be able to give more value to others as we follow these new paths. And if you're not living on purpose — following your own special life's purpose, doing what you love and creating something valuable for others while you do it — then you're not fulfilling what you came here to do.
This isn't exactly how I pictured it all unfolding; I was unsure how the change was going to take place, but I did know that I wanted it to go smoothly and with as little pain as possible. And the conversation I had with my now separated husband did all that as magically as it could have. There were some rocky moments where I almost felt like running away from the situation, but I faced the fear, did what I had to do, and I couldn't have manifested a better resolution if I'd tried.
And like I said a week or two ago… I knew my "What" and my "Why", but not my "How"… and I let my "How" happen the best way it could have.
The whole thing is almost surreal, but despite a melancholy feeling — like when the summer gives way to autumn, a season of endings and new beginnings — a huge weight has been lifted off my shoulders. Now there are no more secrets, no more regrets, no more wishful thinking, no more lost opportunities.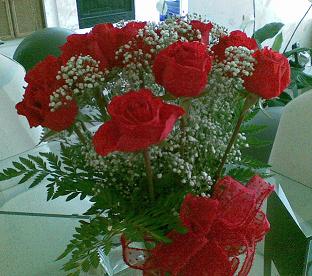 I'm looking forward to my new life with someone whose mission and goals and dreams and values match my own; someone that I've grown closer to over the months without even trying, without even knowing what was happening sometimes. But somebody I know in my heart I'm meant to be with.
I'm grateful for many years with Wil, and for what he's taught me, and for what I've had the opportunity to teach him, and for what we've learned and experienced together.
And I'm grateful for many years to come with Barry, for what he's taught me, for what I've taught him, for what we've learned and experienced together… and for what we will teach each other, and for what we will learn and experience together. (I'm also grateful for these beautiful roses he gave me.)
When your life changes in a day, it's a bit of a shock to the system. But the only thing to do is move forward, take command, seize the day… and love the life you have.
Keep Unwrapping the Ups and Downs of Life,