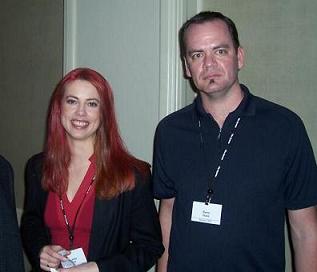 A year ago this weekend, Barry and I were at the System Seminar in Chicago… and met face-to-face for the first time ever.
We had been working together for over 6 months by that point, and had just had a major success with the launch of Masters Of The Secret…
And we had been friends for over a year.
As business partners, we had done our fair share of arguing (hey, two ambitious, driven people who are passionate about what they do are bound to clash from time to time)…
But meeting in person allowed us to see that there were elements of each others' personalities we had never noticed or given the other person credit for before.
Hanging out for the whole weekend — shooting video interviews together, attending sessions at the seminar together, eating meals together, and one night even exploring why "Chicago, Chicago is my kind of town" with a trip downtown to a jazz club and The Second City comedy show — cemented that we really were good together, both as friends and business partners.
But something else happened that weekend that was totally unexpected…
I was happy to discover my long-time friend, who I had spent hours with on the phone discussing marketing, content creation, personal development and the mysteries of life was someone that could be my best friend… someone I had a lot in common with that I could completely trust, no matter what happened.
And I was happy to discover that when we did business together, I didn't have to feel threatened or ready to jump ship, even if little quarrels did come up again.
But neither of us expected that to develop into strong feelings for each other, that within the next month would suddenly hit us each with the realization…
Uh-oh, I think I've fallen in love!
It was like our fun weekend, working and playing together, had planted the seeds for something that grew and blossomed into an unmistakable loving feeling over the weeks to follow.
Neither of us were looking for those feelings — we lived 3,000 miles apart and only one of us was single — but it was something we couldn't stop.
When a connection is meant to happen — when you've both spent months picturing the ideal relationship, and that perfect person enters your world — there's nothing you can do to stop the incredibly strong pull towards each other.
Up until then, I had honestly thought that my ex-husband would eventually come around, stop putting down the things I was passionate about, and begin to share my goals and aspirations as we had truly seemed to many years ago.
But I was fascinated to see that the universe delivered what I wanted in the form of Barry instead.
I wanted a partner who had the same dreams as me, who believed the same things as me, who could carry on a conversation about the things that drove me to achieve every day, and even walk down the path with me towards the same goals.
I wanted someone who appreciated everything about me, who recognized my strengths and forgave my weaknesses, and someone that I could have fun with every day, no matter what we were doing.
I wanted someone who would take care of me, just as much as I took care of him; someone who would surprise me with little thoughtful gestures when I didn't expect them, and someone who would appreciate when I made thoughtful gestures of my own.
I wanted someone who enjoyed exploring life and going on adventures, that I could travel with and experience the richness of the world we live in.
I wanted someone who understood that the universe is abundant, it's okay to be wealthy, money is not the root of all evil, and life is meant to be enjoyed without limits.
I didn't have any of that before… but I have it now.
And I suppose I owe it all to that weekend in Chicago, a year ago, when the seeds were planted to get it.
They say, "Be careful what you wish for, you might get it"…
I got it, and I'm glad!
Keep Unwrapping the Mysteries of Life!