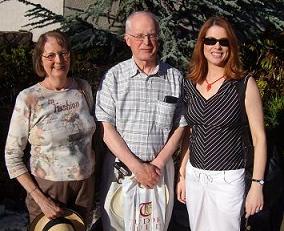 My parents came to visit a few days ago… they're here for almost a 2-week stay, and they're planning to see as much of the area as they can during that time.
They've never been to Oregon, but it's strangely reminiscent of Ontario in a lot of ways (besides both starting with an "O")… for instance, both have beautiful rivers and tree-filled scenery, and both have Shakespearean festivals that are among the top in the world.
So Barry and I thought they'd enjoy going to a play here at the Oregon Shakespeare Festival in Ashland… and I decided on A Comedy of Errors, which was presented as a Western musical.
Yes, Shakespeare, Western twangs, and song-and-dance — all in the same play.
This picture of us is one Barry took a few hours before the show, walking around the quaint historic downtown Ashland. And since my Dad is a retired history professor, we knew he'd like the old-time aspects of the town, and also the local school — so we took him to explore the campus of Southern Oregon University.
It's interesting how things happen in patterns in life… and no matter where we go, we find things that remind us of home.
It reminds me of the saying, "Wherever you go, there you are."
I moved 3,000 miles across the continent, and to a different country, almost a year ago… to follow my heart.
And here I am.
Keep Unwrapping the Mysteries of Life!