Well, the kid from the UK has done it again.
Yup, my buddy Chris McNeeney (I was the first person to interview him about a year and a half ago, before he started making all this noise online) has gone #1 on ClickBank again… with his newly released Google Nemesis.
He's just cleaning up lately with product after product about to make big money using Google AdWords and ClickBank (as an affiliate, so no products needed). And he comes by his ability to sell the heck out of these products honestly.
First it was AdWords Miracle, then it was Affiliate Project X (which earned him the nickname "Chris X"), then Day Job Killer, then Google Assassin… but all those were information products.
Good information products, yes… but I felt the powerful money-making information in them may have been a bit too advanced for someone just starting out online.
After all, you need to have a website to drive traffic to — so what's the point of learning how to drive traffic if you don't?
Well, the solution is here…
But first, let me tell you about Chris's jaw-dropping story, and why you should care…
Chris is a 25-year-old guy from England who used to work a minimum wage day job that he hated (well, for minimum wage, who wouldn't hate it?) until he found the secret to marketing affiliate products online.
And no, he wasn't just promoting "how to make money online" products, and you don't have to either — lately Chris has been making a pretty penny in the alternative fuel market.
But along the way (and it only took him a few months) he went from making zero to over a million dollars a year, and became one of the most successful ClickBank affiliates of all time!
So it's no wonder that once he started telling people how he did it, they all wanted to buy his products… but in actual fact, no matter how many sales records he's broken with his own launches, he still makes the bulk of his cash the way he always has — as an affiliate, promoting other people's products.
And if he can do it — there's no reason you can't, too.
Especially now, because Google Nemesis is not just a "how to" product. Oh, sure, you get video tutorials and reports to tell you how to use the system… but the main component is software that allows you to track your AdWords campaigns, ClickBank sales, AND — in my opinion, the coolest part — create your own product review landing pages on the fly that are hosted on what's sure to become an authority site (which makes it win-win all around).
So that means you DON'T need your own website… because the system finds the products and creates your pages for you. It even predicts conversion rates to take the guesswork out of the whole thing.
Here's a quick 16-minute video tutorial that shows you how simple it is to make your own review pages with Google Slasher, the software portion of the Google Nemesis package (Chris paid over $60,000 to have this developed… but hey, he made back $64,000 in just six weeks using this very system, and one little Google ad).
CLICK HERE OR ON THE GRAPHIC BELOW TO PLAY THE VIDEO
(Will open in a new window):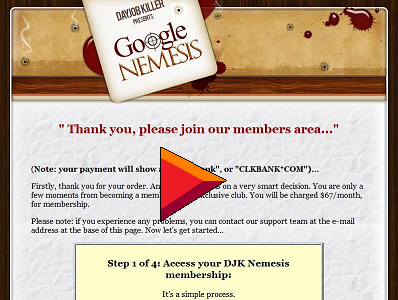 The reason Chris developed this product was that he discovered the #1 reason most struggling affiliates fail to make money online.
Know what it is?
They lack the motivation, time or resources to make it all work for them… which is why Google Nemesis is so fast and easy to implement.
The only catch is, Chris always raises the prices of his products within a few days of launch, after enough people have purchased it… and that happened the first day, so at any time it's going to go up.
If you've been wanting to make a second income (or a first) in online marketing, but didn't know how to put all the pieces together — Google Nemesis is the key you've been waiting for.
Keep Unwrapping Your Success!