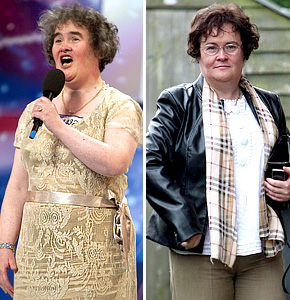 Unless you've been living under a rock the past few weeks, you've no doubt heard about Susan Boyle, the 47-year-old woman who became a media sensation after singing on Britain's Got Talent.
It seems like she's everybody's darling, and the Susan Boyle bandwagon is almost full — with celebrities, non-celebrities, and even people, like peers of ours, that normally view this type of phenomenon with a critical eye.
And now people are up in arms because she's gotten a makeover (including hair style and dye job, eyebrow shaping and a new wardrobe) that makes her look more her age, instead of 10-15 years older than she is.
Susan had acknowledged that she didn't realize how "frumpy" she looked until she saw herself on TV, and that with the world watching her now, she wanted to look her best. But some people are intent on keeping her "frumpy".
According to Toni Jones, assistant fashion editor from British tabloid The Sun, the paper's readers want Susan to remain "one of us"… and the powers that be at Britain's Got Talent want her to "look ordinary" and stay "real".
Funny, because she looks pretty "real" to me now… and, yes, ordinary too.

There's nothing wrong with that. But it seems the show actually wanted her to be beyond ordinary — because the more of an underdog they could make her out to be, the bigger sensation they would have on their hands.
Susan herself helped start the ball rolling by lacking a certain amount of drive and ambition, by choosing for many years to stay stuck in her comfort zone, and by deciding to think of herself as a victim.
But the TV producers played up on her low self-esteem on purpose.
Let's take a closer look at why that might be, and what we can learn from it…
Yes, it's true, the world loves an underdog.
And how dare I say she's lacking drive and ambition, right?
Hey, I like proof that you can't judge a book by its cover just as much as the next person. It's always what's on the inside that truly counts, and Susan has a beautiful singing voice.
So take that, all you people that judged her before she opened her mouth! Ha, she showed you! Right?
Well, what about the rest of the book's content? Self-effacing humor, okay, that's not bad… but what kind of example is she setting by saying that it's okay to stay in your comfort zone, stuck in a rut?

That it's alright to wait for opportunity to knock on your door instead of going out and getting what you want? Or that it's okay to wait 35 years before sharing a talent, a beautiful gift, with the world?
One of the core secrets of success on any level is that you must give value to the Universe before you get anything back, and not playing the game is not an option, since it's what we come here to do. Singing in the shower, or to your cat or your elderly mother, for years upon years, is just being stingy with the sharing of value.
And beyond that, if she really had such a strong dream to be a professional singer, why did she decide not to pursue it for so long?
What kind of limiting excuse is it that "nobody gave her a chance before"?
Come now, Susan…
Winners and go-getters don't sit around waiting for somebody to come along and give them a chance. They go out and take that chance.
Alright, I know, she spent her own money ten years ago to cut a demo tape. But then she gave up after sending it out to just a few record companies and competitions, and gave the rest of the copies to her friends.
Well, that's one step closer to giving more value to more people… but still not as far as a true super-achiever would go. There are hundreds and hundreds of record companies that she could have sent her demo to — just as most success stories start out with hundreds of rejections — if she really wanted the dream.
Super-achievers don't let fear stand in their way, they face it head on and plough it over. They don't care about the odds, they bend the odds in their favor.
Okay, I know what you're likely thinking. "Susan couldn't go out and pursue her dream, she was taking care of her mother," or "Susan couldn't do more than she did, because she has brain damage," or "What do you expect? Susan is a victim of life!"
How about that her own mother encouraged her to follow through, get out of her comfort zone and get that dream — including trying out for Britain's Got Talent, something Susan put off until after her mother passed on, calling it a "tribute" to her memory?
Well, what's wrong with paying tribute to people while they're still alive? I'm absolutely certain that this media phenomenon is something Susan's mother would have enjoyed witnessing while she was here.
And what about the brain damage that occurred due to a lack of oxygen at birth? Well, obviously it was very slight, and hasn't effected  her much. Her mother, who would have been the first to protect her if it was required (or even if it wasn't required), knew it wasn't a valid excuse.
Sure, Susan tried out for another talent show many years ago, and ended up too nervous to perform well. But again, winners never stop at one rejection… especially since she also had some small wins at local singing competitions under her belt.
And winners never think of themselves as victims. They think of themselves as survivors first, then thrivers. They think of themselves as victors.

Victimitis-thinking never got anyone anywhere, but further behind than where they started out.

No matter what has happened in this life, you can't think of yourself as a victim unless you want to continue to be one.
That's the most important thing to take away from this article, even if it makes you angry to hear it.
And if it does make you angry, chances are you've been thinking like a victim, too.
At least Susan's finally stopped getting in her own way, and has started to think of herself as a victor now! Many people never do.
So now she's making up for lost time, and working on her self-esteem by trying to look as good as she can, but people want to keep her down.
They don't want her to look good; they don't want her to improve. They want her to stay the same.
Seems the reason the world loves an underdog is not just because the underdog wins against all odds and shows everybody what they're made of. It's not just that people like to see others succeed in the face of adversity.
But it's because they like to see others fail to an extent, they like to keep others on their level, and in fact, the underdog allows people to feel superior in some way.
Now it becomes not, "Oh, sure, she looks funny and frumpy, but listen how she can sing! How inspiring!" but, "Oh, sure, she can sing, but see how funny and frumpy she looks!"
The producers of Britain's Got Talent know all this, of course, and want to milk it for all it's worth. That's why they specifically got shots of people laughing at Susan as she came out. It made a bigger impact when their faces changed as Susan began to sing.
Why have a wardrobe specialist suggest a more flattering dress? Why have a hair and makeup artist brush her frizzy hair when she looks more like an underdog with the Brillo-pad effect?
And why let their ratings cash cow work on improving her looks or her self in any way?
People will always gravitate towards their comfort zones, even when it means keeping other people in their comfort zones.
Breaking out of that rut is the way to make an impact in life.
Have you done it yet? Well, what are you waiting for?
Nobody's going to give you a chance unless you ask for it.
Keep Unwrapping The Mysteries of Life!


Please note: Comments on this post are now CLOSED because the vast majority of comments coming in are DEstructive, while the post was written to be CONstructive.

There is nothing here against Susan Boyle personally, or her talent, or her looks; this post is simply meant to point out limiting patterns that she, as well as other people, have repeated — which always results in suffering. By the same token, recognizing these patterns can stop you, or anyone you love, from falling into the same traps, and spending your life WISHING you'd done it differently.

While the negative comments really just prove my point — that the world loves an underdog, and will rally around him or her, supporting and giving credence to any and all excuses for failure — many of them are really off the mark. They are full of emotional reaction, rather than thoughtful response to what I've written here. They personally attack me, when there are no attacks in the original post.

It seems that the people leaving these comments are mainly those who have found this page by searching the internet for Susan Boyle. In other words, they're Susan fans, and hence they arrive here in a completely different mindset than the audience this post was originally written for.

That target audience is dedicated to personal development, and becoming super-achievers. They follow my husband, Barry Goss, and I at our company, LWL Worldwide. If that sounds like you, and you'd like to be part of our community, follow the links on our Life Without Limits blog.

If you're a Susan fan who's angry about what I wrote, here's a suggestion: take a deep breath, and read it with an open mind. Listen to your heart. Do you feel any truth in what's there? And more importantly, can you use it to make better choices, and achieve more in your own life?

If you choose to write a thoughtful comment, I may approve it, even if you don't agree with me. There's nothing wrong with debate, or even anger, if you express it in a healthy and mature way.

But if you just want to rant at me, and throw around some juvenile names, I'll just have to say, "Move along, now… nothing to see here!" 😉