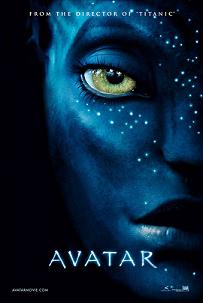 There's been a raging debate going on the past week or so about James Cameron's movie Avatar.
Barry and I went to see it a week ago, and both agreed it was the best movie we'd ever seen… both visually and intellectually.
We chose the 3-D version, which has come a long way since the old green-and-red imagery they used to use, and it definitely enhanced the experience.
Extreme nutshell version: American military people are destroying the indigenous forests of the planet Pandora, in an effort to mine unobtainium (ha, ha) which is worth $20 million a kilogram. The Na'vi, the spiritual indigenous people, don't want to lose their sacred land and trees. The hero falls in love with their culture, and one of their people, so ends up wanting to help them rather than destroy them.
We see all three classic storybook struggles: man vs. man, man vs. nature, and man vs. himself as the hero embraces the ways of the Na'vi and their Goddess, Eywa (sometimes spelled Ai'wa).
And all of a sudden, everyone's analyzing the message(s) of the movie… which is fine, because there were a lot of messages to be mined from it, and it gives writers something to write about. But over-analyzing can cause some friction, just like in high school lit class where thousands of papers have been written about who's the better Christ figure: Simon in Lord of the Flies, or Santiago in The Old Man and the Sea.
And just as back then, it's pretty interesting to sit back and watch the sparks fly when people are talking about Avatar.
"(It's about) pantheism — a faith that equates God with Nature, and calls humanity into religious communion with the natural world," wrote Ross Douthat in the New York Times. "The question is whether Nature actually deserves a religious response. Traditional theism has to wrestle with the problem of evil: if God is good, why does he allow suffering and death? But Nature is suffering and death. Its harmonies require violence. Its 'circle of life' is really a cycle of mortality." By contrast, he says,  at least Christianity gives us an "escape upward" after death…
… Which shows that he apparently completely missed the spiritual side of the movie's message: that we are all connected through unseen energy, and that energy lives on forever, as do we in our spiritual form — whether to be "with Eywa" (as one main character is) or to be reincarnated into another body (as the hero is at the end).
"(No, no, no, it's) a combination of pantheism and theism, a view scholars today call 'panentheism,'" replied Jay Michaelson in the Huffington Post. "Like mystics here on Earth, the Na'Vi have an experience of unity of consciousness with other beings, all of which (themselves included) are really just manifestations of one Being, which they call Ai'wa."
He points out that the (highly overused) Sanskrit greeting, Namaste, means, "I see you," which is the greeting used by the Na'vi people. But it doesn't just literally mean "I see you," so much as it means, "The God (or in this case, Goddess) in me sees the God in you."
"Strictly speaking, the Na'vi are not pantheists. They worship a Godness — a Nature Goddess, to be sure, but one who hears prayers and sometimes answers them," added Mark Silk of Spiritual Politics. "(And in fact) I'd say that Cameron has married some good old Christian grace-and-redemption theology to his eco-anti-imperialist parable," he says, pointing to the character name "Grace Augustine" and the hero being "born again."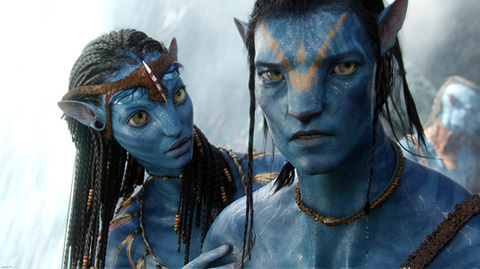 Ahh, but wait… he's not "born again" simply the way a "born again Christian" is, with a new belief. He's also literally born again, as in reincarnated, into a different body — something that's no longer talked about in the Bible.
Word has it that at one time, reincarnation may have been part of Biblical teachings — after all, every other religion seems to talk about it — but that it got thrown aside during the hundreds of years of playing "broken telephone"… when stories were being passed along verbally instead of being written down.
Or maybe the people of the day analyzed that part of the story, just as today we analyze Avatar, and decided that it didn't need to be included.
While Matthew, Mark, Luke and John were the James Camerons of their day — the storytellers who got their parables across in the best way they could — they didn't have the chance to painstakingly edit the final version the way Cameron does. The monks did that for them, much later.
Anyhow, the really funny part about the "is Avatar pantheist, or panantheist, or Christian?" debate is that nearly any human, of any religious background or belief, could see elements they relate to if we'd just strip back all the labels and accept it as a "spiritual" rather than "religious" movie.
And in fact, that's the beauty in what's known as the "Universal Approach" to spirituality…
See, the Conventional Approach — think "organized religion" — has us seeking God in a church or temple, on a specific day or time, whereas the Universal Approach says God is intimately connected to our soul and spirit, which exist inside our bodies. All God, all the time… wherever and whenever you want to feel connected, it's within you.
The Conventional Approach says we're born in sin, and need to be forgiven of our sins. We've got one shot at it, because we only have one life, in one body, and then forever after are sentenced to an eternity in heaven (if our sins are forgiven) or hell (if they're, for some reason, not forgiven… by whatever measuring stick God uses).
The Universal Approach says we're born in perfection, and resolve any unbalance through karma. We can keep doing so for many lives, and exist in one spiritual plane — not one divided into "good" and "evil" — between lives. Similarly, we don't divide experiences into "good" or "bad" here, because it is what it is, and everything is an opportunity to learn, grow and develop.
But you know, once it's laid out like that, it's easy to see that the little black book has a lot of contradictions (and a lot of unintended comedy, like in the story about Soddom and Gomorrah, but maybe we'll talk about that another day!)
After all, didn't the Bible itself say "God is love"?
Well, if God is love, and love is everywhere, then God is everywhere. And if God is omnipresent, as the Bible says, then that's further proof that God is everywhere — in the trees, in the rocks, in the dirt.
Why would someone need to go to church at 11:00 a.m. Sunday morning if God is everywhere? And if everyone agrees that God is everywhere, how can we then label that belief as "pantheism" (or "panentheism")?
And… why the heck do some Judeo-Christians insist on seeing everything in a black-and-white world where God can only be seen as one thing — that guy in the sky with a long white beard (or is that Santa Claus?) — and not another?
Wait, we're not quite done with the rhetorical questions…
Why does this little sticking point need to divide and conquer? What makes a white-bearded Christian God better than a black-bearded Muslim God or a non-bearded Na'vi Goddess? If He/She/It is everywhere, and can be in a rock as easily as a cloud, what does it matter what — if anything — He/She/It "looks" like?
It reminds me of a bunch of kids in a sandbox, all shouting, "My God is better than your God!"
Hey, think about it… people that have had near-death experiences always talk about a white light, anyhow. Quantum physicists support that everything is made of energy, which is light, and even that love is light. And in fact, the Christians also say that God is light (and remember, God is love, and love is light).
So that brings us back to one core truth, no matter what you believe: Everything = energy = light = love = God.
So He/She/It just looks like light: bright and white. Nothing more, nothing less, no matter what religious dogma you believe in.
Hmmm… yeah, kinda like what the bits of godliness looked like in Avatar.
The planet in the movie is called Pandora, named after the Greek legend about the world's first woman — the Greek Eve, if you will. Zeus gave Pandora a box, and the gift of curiosity, which made her want to open the box. When she did, she released illness, diseases, labor and other "evils"… but in the bottom of the box was hope.
And that's what we can leave Avatar with. Sure, hope can be pretty flimsy as something to hook your wagon to, but it's something.
Bottom line, no matter how bad things get, there's always hope.
Or better said, no matter how messed up the world around us seems, there's only one way to go when you're at the bottom, and that's up.
Things WILL get better… and according to the principle of yin and yang, there's no way it can ever be any other way but perfectly balanced.
So forget about the old viewpoint of good vs. evil and heaven vs. hell, because any "hellish" experience will always lead to something "heavenly".
And it's not some reward you have to wait for the afterlife to bring you… you can experience it whenever you're ready to.
The magazine The Week writes, "who else but an American could spend $400 million making a heavily computerized movie that condemns modernity and capitalism?"
That might seem like a clever statement at first, but they're missing a few key elements.
The punchline is, James Cameron is not strictly an American. He can never be president. He, like me, was born in Canada, and spent his first 20 or so years there.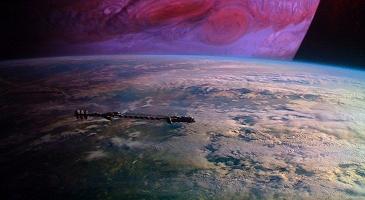 And a man who makes record-breaking blockbusters like he does is certainly not condemning capitalism. Further, a creative genius like him, who always wants to push technology further, is not condemning modernity.
It's the same sort of black-and-white view that some religious people, like Douthat, seem to take: "If it doesn't represent God the way I see God, then it must be anti-Christian!"
Subtle ironic humor may not be as popular here in the U.S. as it is north of the border, but here's another beauty of Avatar: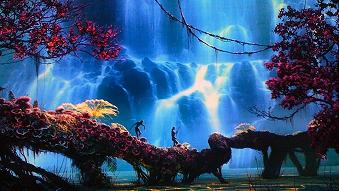 It's using technology to make a breathtakingly beautiful statement that technology should not be used as a weapon to destroy, but as a tool to create.
And that financial gain at the expense of human (or alien) lives is no gain at all…
But financial gain based on giving value to the Universe — for instance, in the form of a gorgeous work of art, and a highly entertaining means of escape for millions of people during tough times, that's full of thought-provoking messages to boot — is the way life is meant to work.
Keep Unwrapping the Mysteries of Life!