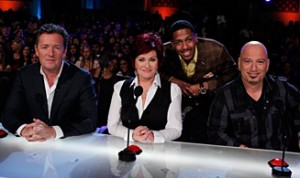 So a new season of America's Got Talent has launched, and this time with American judges suspiciously absent.
It was strange enough that it previously featured two Brits — Piers Morgan and Sharon Osbourne, with heavy accents to prove it — but now the only previous American-born judge, David Hasselhoff, has been replaced by Canadian-born Howie Mandel.
Full Disclosure: I'm Canadian too (living in the U.S. like Howie), so I'm not complaining out of a personal sense of unfairness. I also happen to like Howie's on-camera style, and his ability to improvise and have fun, and I'm glad he's got the gig.
But don't you find it strange that a show claiming to celebrate "American spirit," and having the contestants vie to "win America's hearts," wouldn't have at least ONE American judge?
Even the Executive Producer, Simon Cowell, is British.
Jus' sayin'…
This is how they officially describe AGT:
"The series is a true celebration of the American spirit, featuring a colorful array of hopeful stars, including singers, dancers, comedians, contortionists, impressionists, jugglers, magicians and ventriloquists, all vying for their chance to strut and perform on stage hoping to win America's hearts — and the $1 million prize."
Alright, at least the host, Nick "Mr. Mariah Carey" Cannon is American. But he's not a judge.
Looks like Hasselhoff will go down in history as the epitome of an American judge for good ol' homespun American talent.
And just like he always used to yell, "this is what America's all about," in a slightly slurred voice with glassy, bloodshot eyes… that becomes the symbol of what America is all about, at least in the eyes of AGT producers:
"A movie star helps a young singer/actress find fame, even as age and alcoholism send his own career into a downward spiral."
That's from the plot summary for the classic movie A Star is Born, and it's referring to the character of Norman Maine (played by James Mason) mentoring Esther Blodgett, who becomes Vicki Lester (played by Judy Garland).
American loves this story. It was first made in 1937 with Janet Gaynor and Fredric March, then remade in 1954 with Garland and Mason, and remade a third time in 1976 with Barbra Streisand and Kris Kristofferson. Every single time, it won at least one Oscar, and usually for Best Picture.
So if America's Got Talent is an updated venue for A Star to be Born (like last year's winner Kevin Skinner… what ever happened to him, anyhow?) then Hasselhoff was the modern-day Norman Maine.
And that, my fine American friends, is how you're supposed to remember Americans who judge Americans (or just praise them, in Hasselhoff's case, since he LOOOOVED everybody).
Now that that's out of the way, we can forget the "America" part of the show title and just focus on the "Talent".
So if having an American judge led to a singer with NO talent winning the contest… maybe having NO American judges will mean somebody WITH talent can win this year.
Hey, again… jus' sayin'.
Thoughts? Leave them below…
Keep Unwrapping the Mysteries of Life!