As America's Got Talent moves into the finals, there's a group of young, funky, awe-inspiring performers called Fighting Gravity that could go all the way.
They're Barry's favorite act, and one of my faves too. They're former college students — 13 brothers from the Pi Kappa Alpha fraternity at Virginia Tech — and they've mastered the art of blacklight theater.
They do a great job, and they could certainly pull off an entire Vegas show that has the potential to run for years.
As Barry says, "Move over, Blue Man Group!"
But I'm still surprised every time I hear AGT judge Howie Mandel say how unique they are. As a fellow Toronto native, I expect that Howie would have heard of the Toronto-based Famous People Players, who have been "fighting gravity" using blacklight for almost 40 years.
They're a world-renowned act of learning-disabled adults who run a blacklight dinner theater, and have caught the attention of celebrities like Tom Cruise, Paul Newman, William Shatner, Alex Trebek, and the Rolling Stones.
I wrote about founder Diane Dupuy as one of our LWL Hidden Heroes just over a year ago, and I've interviewed her several times before that.
Here's a clip of the Famous People Players at work: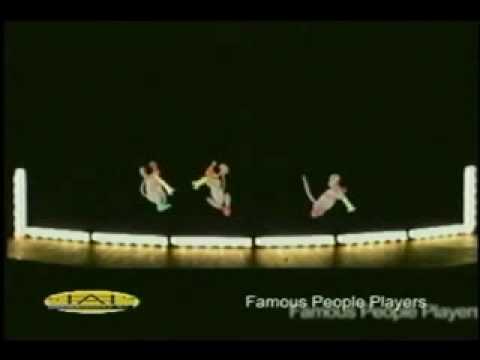 Granted, the Famous People Players mostly use puppets, whereas Fighting Gravity turns several of their troupe members into the live puppets. That's really cool.
But I just couldn't help bringing some of the originators of the art into the spotlight, as the act that they may have inspired to some degree goes on to an undoubtedly fantastic career.
The message Diane Dupuy wants to give the world is that we should always strive for new heights of excellence, and achieve even the most impossible of our dreams.
Fighting Gravity has a similar motive; the group wants to "inspire others by showing that through hard work, determination, and some good lighting, anybody can accomplish their dreams."
So go, guys, and get that dream!
Keep Unwrapping the Mysteries of Life!