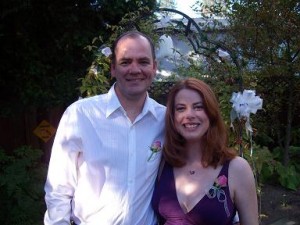 Today, October 10th, 2010, is our wedding anniversary: 10-10-10.
Until now, we haven't seemed to share the date with many couples.
After all, traditionally people get married in the summer, and according to an article in the Pittsburgh Post-Gazette, Hallmark says August is now the number one month for weddings, followed by June, July, September… and October in 5th place.
But when Barry and I got married two years ago, we liked the 10-10 date. It had the symbolism of making the wedding and the marriage a perfect 10.
Now, it seems, thousands of couples agree with us, as they rush to the altar today (and aim for the 10:10 a.m. time — which happens to be exactly when I'm writing this — to get a full 10-10-10-10-10).
The London Daily Mail posted an article saying that over 31,000 couples are planning to get hitched today, so churches and registries have been booked up for months.
In Singapore, a normal Sunday will host 70 weddings, but today — appropriately enough — it's over ten times that amount: 774.
Obviously during this decade we've had numerous triple-digit dates, starting with 1-1-1 in 2001, and the trend will continue until 12-12-12 in 2012… then they're gone until the year 3001.
7-7-7 was an incredibly popular wedding date too, since it contained three lucky sevens, like a winning pull on a one-armed bandit.
8-8-8 was even luckier for the Chinese, and 9-9-9 had that nice mathematical symmetry too.
What's so special about 10-10-10?
Well, it's also lucky in the Chinese culture, because 10 represents perfection or completion — or a perfect completion — according to the ancient "I Ching", says an article on Yahoo! News.
Some people say it also represents triple happiness, or three perfect tens — all bringing a great vibe to enter a marriage with.
And personally, I'd rather be a 10 than a 9, 8 or 7.
Of course, "perfection" doesn't mean that life is full of all ups with no downs; "perfection" is actually a balance of both up and down, high and low, dark and light… which is how the Universe always operates.
The key is dealing with both in a healthy way, and having fun while riding the roller coaster of life.
So as tens of thousands of couples rack up this date as their anniversary, we welcome them to our 10-10 club (after all, their wedding might be on 10-10-10, but their anniversaries will forever be 10-10, just like ours).
And we wish them the best of luck and happiness on this lucky, happy day.
If you're looking for proof that 10-10-10 is lucky and happy… all I can say is, the weather forecast called for rain this weekend, but as I look out our window in beautiful Southern Oregon, I can't see a cloud in the bright, sunny sky.
Triple happiness indeed!
So… happy, happy, happy anniversary, Big Bear!
(Or, as Ren and Stimpy would say, "Happy, happy, happy… joy, joy, joy!")
Keep Unwrapping the Mysteries of Life!