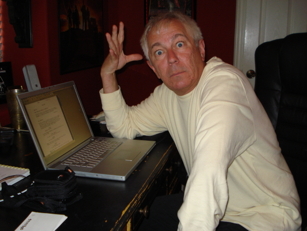 I just read about an influential writer and producer named Joe Bodolai who helped create Canadian comedy TV.
He was instrumental in the creation of The Comedy Network, shows like Kids in the Hall and Comics, and co-wrote the original Wayne's World movie with Mike Myers. He also wrote for SNL.
Our paths crossed with some of the same people I knew when working in the media world in Toronto. I also met and regularly interacted with several members of the Kids in the Hall cast and crew over the years, since they worked in the same building.
But I never had the pleasure of meeting Joe.
A few days ago, he published a final farewell blog post on his Say It Ain't So, Joe blog. He called the post "If This Was Your Last Day Alive, What Would You Do?"
It was nearly his last day alive, as I'm sad to say he apparently just took his own life.
I can understand the pain people go through when life throws curve balls. We've all walked through darkness, trying to find the light at the end of the tunnel.
I just find it such a blow when someone — a valuable, talented, creative, giving person (like we all are at the core) — finally succumbs to despair and seeks a different kind of light.
It seemed like Joe understood that life is a balance of good and bad, and that you need to fight for what you want. In business, and in the comedy world, he fought singlehandedly to save several projects that he believed in.
And after his last blog entry, he posted on Facebook that he'd be alone on Christmas and intended to volunteer to help the homeless.
But for all his accomplishments, the goodness in his heart, and all the value he gave to the rest of us — as radio veteran Gene Valaitis said, chances are Joe made you laugh, which is an incredible gift — he took the final curtain call.
I'd like to take this opportunity to dedicate a favorite video of mine to Joe. Joe, I resonate with the spirit of your final post, as I've also written before about the same topic. I like to reference this song when I do, because it says it all so well.
I only hope that this time, the soul-searching aspect of the subject inspires others to find the strength to create a better life. To count their blessings, be grateful for what they have, value what they offer, share with others, and express what they're feeling in their hearts.
I like a lot of Nickelback's music, but I think this is by far their best song, for the depth and meaning of the lyrics.
Listen, enjoy, ponder, heed… and may you find joy and thought-provoking inspiration here:
Keep Unwrapping the Mysteries of Life!