Russell Brunson is a typical guy.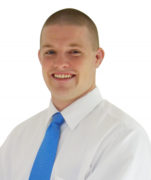 An ex-wrestler (high school and college) who, not so long ago, lived in a tiny shack of a house with his wife and made potato guns for fun.  You wouldn't have looked at him then and said, "Wow, that's a future millionaire!" or even, "There's the next successful entrepreneur!"
In fact, you wouldn't look at him today and say, "Wow, that's a millionaire!" (which is actually true of most millionaires I've met).
But you can't judge a book by its cover, and I love how that fact will prove itself to you again and again in life, no matter how you wish you could! 😉
See, Russell makes millions of dollars a year online, and lives with his family in a breathtaking 11,000 square foot mansion. He's the epitome of what most of us would call "successful".
Yes, sweet!
I've had the pleasure of interviewing Russell, and he's the real deal.  No hype, no BS, just a down-to-earth guy who's figured out how to make it.
Now he wants you to succeed too… he's just launched a contest called the $100 Million Dollar Challenge where you get training at no cost… and can even win a brand new Corvette, delivered to your door by Russell himself!
If you've been struggling with your online business, then you need to check out what Russell has to say in this video (as well as his students… pretty impressive!)
Plus, hey… you can't beat the price!
Russell's also donating proceeds from the contest to World Teacher Aid — which helps to bring education to children in third-world countries.
So you can help yourself while you help others too!
Keep Unwrapping Your Success!