The due date was November 9, but I always had a feeling he'd come early… maybe even as early as October so he could have his own birth month (my birthday is November 18, and I was sure he wouldn't want to share it).
I even made sure everyone knew he could come as early as October 19, since that's when I'd be 37 weeks pregnant, and the baby would be considered full term.
But it still took us by surprise when, on October 19, I really did go into labor… or at least start the process.
Yup, it was a classic yet rare instance where the water broke before reaching the hospital, but it wasn't a big gush like in the movies, and it didn't trigger labor so they had to induce it.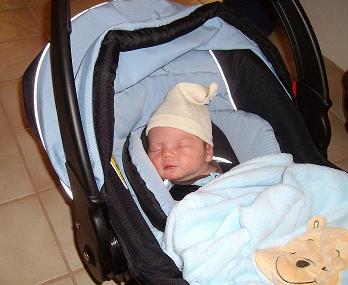 And on Monday, October 20 at 5:30pm (almost 24 hours after checking into the hospital) our beautiful son Konan Brody Goss was born.
Here he is, arriving home from the hospital for the first time yesterday.
Yes, he was three weeks early (another rarity for first-time moms) but still a hefty and healthy 8 lbs, 3 oz.
Obviously this guy is meant to be a super-achiever, and not a procrastinator!
I am filled with wonder, intrigue and fascination over the journey ahead, both for him and for Barry and I, as first time parents.
What will his future hold?  How can we ensure it's the best it can be?  And what will he do with the infinite possibilities that are now before him?
One thing's definite, we're going to make sure he follows his birthright to be a super manifestor.
His birthday is 10-20… and if 10-10 was perfect to get married, then 10-20 must be twice as good a day to be born. 😉
For someone so small, he sure carries and elicits a lot of love.  And he looks a lot like his dad, which gives me even more to love because I now have two special guys.
In only a few days of life, he has completely changed our lives, and we're sure he'll change many more lives in the future.
After all, if he's anything like Barry and I… he'll have a similar purpose of changing lives for the better, one person at a time.
Welcome to the world, Konan!
Keep Unwrapping The Mysteries of Life!