You probably know that the most successful people in the world have coaches and mentors.
One of my first mentors in internet marketing — someone that I've called on and looked to for guidance many times over the years (and returned the favor when he needed it, in a kind of informal mastermind arrangement) — was Harris Fellman.
Harris didn't teach me how to interview, but he taught me how to make more money with the interviews I was doing. He taught me how to formulate my teleseminar series to get the best bang for the buck. He gave me guidance on several of my products when I was working solo. And he offered encouragement and support at every step of the way.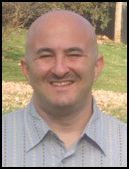 Harris is a master at reinventing himself. Kind of like a bald Madonna… and hey, he's the kind of guy that just needs one name, too. Mention "Harris" in any internet marketing circle and they'll know exactly who you mean.
Now Harris is reinventing himself again with a new brand, and as a result you benefit BIG time!
I'm not going to give away what he's planning next, but I will tell you that he's selling off ALL his previous products for a ridiculously low fee so that he can concentrate on his new project.
That's right, you can get a piece of Harris — and all his personas he's ever invented up until now — for about the price of dinner for two.
That includes the product that tells YOU how to make money with a teleseminar series — the same advice he gave to me. And his product on how to follow in the footsteps of successful marketers. And some website tools he had developed that really increase people's conversions. And his product on building recession-proof income, and all the interviews he's ever done… and… honestly, it would take up too much space here to tell you all about it.
That's why Harris put together an entertaining video for you instead!
It's a farewell of sorts, but Harris says it's not "Good Bye, Harris"… it's just Good Buy Harris.
Obviously this is a limited time deal at this price, so you can only get it for another couple of days.
Watch Harris's "Good Buy" video — and grab the Good Buy yourself by clicking here.
Keep Unwrapping Your Success!