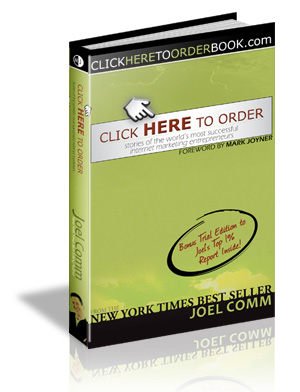 Exactly a year ago, we were wrapping up shooting on the internet's first competitive reality show, The Next Internet Millionaire.
I was the co-host for creator, executive producer and host Joel Comm… one of the web's pioneers, who actually built his first site in 1995.
Ah, 1995. The same year I got my first email address and broadcast it at the end of the TV show I was hosting, to invite viewer feedback, which nobody was doing at the time. And I thought that was innovative!
Amazing what can happen in 12 years. During that time I worked in TV, then wrote print articles, then did online television, then radio, then back to the internet with an online radio show…
And Joel Comm co-created Yahoo! Games, wrote the New York Times Best Seller "The AdSense Code" and, of course, undertook the very ambitious goal of creating The Next Internet Millionaire (but he didn't just take it on but succeeded with it… as he has a tendency to do).
Yes, Joel really prides himself on doing things that no one else has done before, and he is getting ready to do it again with his new book called Click Here To Order: Stories of the World's Most Successful Internet Entrepreneurs.
But here's the coolest part… to celebrate the upcoming release of this book, destined to be another best-seller, Joel is holding a special contest.
The prize? An all-expense paid trip to his Colorado office for an entire day of brainstorming and strategizing your business with Joel and his all-star team!
Hey, I went to his office, and I can tell you — this is a valuable prize!
He's also giving away autographed copies of his new book, which is sure to be a fascinating and informative read.
It doesn't officially launch until September, but now's the time to get in on the contest.
Just visit this website and you'll get a chance to win the grand prize, or one of the autographed books, or even pre-order the book if you just want to get your hands on it.
Wouldn't you like to find out the true inside stories of some of today's most influential and successful internet millionaires?
Early reviews of Click Here to Order have been incredible. But you don't have to "Click Here to Order" yet, you only need to "Click Here" to enter the contest, which is even more incredible!
Keep Unwrapping Your Success!